NEWS
Katy Perry Woke Up in Vegas, Got Married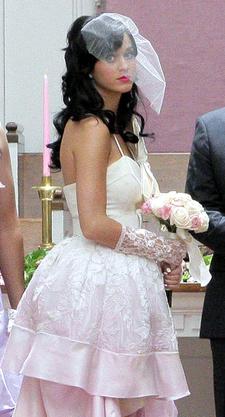 Once upon a time, Katy Perry woke up in Las Vegas and decided to get hitched. But instead of making the mistake of a quickie wedding, she made the hilarious decision to have a fake quickie wedding with her boyfriend at the time, just to freak out her family.
"I was 21. We went to Vegas on a whim and we decided to get fake married. We took all the pictures with the minister, with the fake cake, in the fake chapel and got a fake marriage certificate. We went and bought a wedding dress and a suit at a thrift store, and scanned the pictures and the certificate to my family members, my manager at the time and totally freaked the s--- out of them," she tells PopEater of the inspiration behind her new single, "Waking Up in Vegas.
Article continues below advertisement
Katy says that elaborate scheme was her best joke yet, adding, "It was the most hilarious, stupid prank I've ever pulled. I still have the wedding dress and the certificate. 'Waking Up in Vegas' is basically a song about getting into trouble with your best friend or your boyfriend or your girlfriend – or whoever you're with – and not having any 'I'm sorry for what I did.' "
Genius!