NEWS
Katy Perry's Crazy Style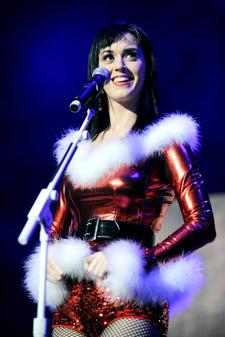 Ever feel like changing outfits 10 times during an awards ceremony? Welcome to Katy Perry's life: The "I Kissed a Girl" singer went through just that many costumes during the recent MTV Europe Awards, most of them quirkier than the next.
"I have one gown that is something Eva Longoria would wear, which we put in for some sense of normalcy," she admits in Page Six magazine. "But every single other outfit is crazy and over the top!"
Article continues below advertisement
So does she worry about others judging her sense of style? Not so much.
"I'm definitely going to be on the worst-dressed lists," she confesses, "But I just want to have fun. I don't take my life too seriously."
Although Katy seems to be all about having fun, this newly-minted pop star is more than just flashy outfits and provocative song lyrics.
"As much as I am cheeky and full of opinions, essentially I know what I'm doing," she explains. "I don't censor myself, but I do think about every­thing. And I feel I've got a good head on my shoulders."