NEWS
Katy Perry's Present to Russell Brand: A Trip to Space!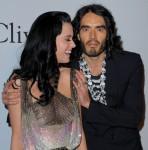 Katy Perry may be the best fiancée ever. The "California Gurls" singer's birthday present to Russell Brand is a trip to outer space!
OK! GALLERY: RUSSELL BRAND STRIPS DOWN IN CHURCH FOR ARTHUR
E! News reports that Katy bought Russell a ticket to Richard Branson's Virgin Galatic space venture for his 35th birthday!
"It is true," Virgin Galactic rep Louella Faria told E! News. "We are very excited to have him onboard."
Article continues below advertisement
OK! GALLERY: HATS OFF TO ARTHUR STAR RUSSELL BRAND
For a measly $200,000, Katy bought Russell a trip to go over 365,000 feet into the atmosphere at a speed three times faster than the speed of sound! He gets to float weightlessly for five minutes before shuttling back down to Earth.
"There will be 17-inch diameter windows to look out onto," a space agent for Virgin Galactic explained. "Passengers will be able to view Earth around 800 miles in any direction from space."
OK! GALLERY: JEN & RUSSELL ARE BIG STARS IN THE BIG APPLE
The spacecraft is still in testing stages and Russell will have to do two to three days of astronaut training.
After he completes his mission, the Virgin rep says, "They will pop champagne, give you astronaut wings and give you a party."
How will Katy ever top that present next year?