NEWS
Keeping Track of Tiger: Alleged Mistress Roundup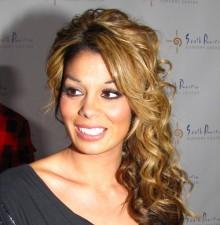 It's hard to keep track of Tiger Woods' tracks, especially when he has only admitted to "infidelities" and all the women coming forward are still only alleged mistresses. To help keep the Tiger tally in check, PopEater has identified 11 of the named women (which doesn't include those keeping their identities private) who claim to have had sexual relations with the pro golfer.
11. Theresa Rogers
Age: 40-something
Article continues below advertisement
Occuption: Unknown
Account: Theresa is the cougar of the group and allegedly hooked up with Tiger before and after his marriage lasting for 4-5 years. The south Florida resident has yet to comment on the reports, but has seeked attorney Gloria Allfred to represent her and she also represents Rachel Uchitel.
10. Julie Postle
Age: 25
Occupation: Nightclub waitress
Account: Julie reportedly met Tiger at the Roxy nightclub in Orlando in 2004. Julie's ex-boyfriend and the mother of her former roommate claim this report is true.
9. Loredana Jolie
Age: Unknown
Occupation: Unknown (Former Playboy pinup, stripper, escourt)
Account: The Sicilian-born model says Tiger bought her expensive gifts and "had manners," but denies sleeping with him. However, a woman who claims to be the model's former madame claims Tiger would pay $15,000 per date and liked sleeping with multiple partners.
8. Josyln James
Age: 39
Occupation: Porn Star
Account: According to reports, this porn star thought she was Tiger's "full time mistress" and she provided "years of service to Woods' virulent sexual appetite." However, these reports have not been confirmed by her.
Article continues below advertisement
7. Jamie Jungers
Age: 26
Occupation: Waitress and wannabe model
Account: According to reports, Jamie met Tiger at a Las Vegas party and he sent a message to her saying he wanted to meet. Over the next year and half, reports say Jamie and Tiger would meet at his California home to hook up.
6. Mindy Lawton
Age: 36
Occupation: Manager at Perkins and waitress
Account: This waitress has spilled the most details about her alleged relationship with Tiger saying he was "well-endowed." She claims there affair occured during Tiger's wife Elin Nordegren's first pregnancy and lasted for a year.
5. Cori Rist
Age: 31
Occupation: Mom, unknown
Account: Cori claims she had a two and a half year fling starting in 2006 with Tiger and spoke about it on Today. She said they would meet up in hotel rooms that adjoined.
4. Holly Sampson
Age: 36
Occupation: Porn Star
Account: No information on this alleged mistress, but her lawyer said "she has no comment on the matter" and that is not a denial.
3. Kalika Moquin
Article continues below advertisement
Age: Unknown
Occupation: Las Vegas nightclub manager
Account: According to reports, the nightclub manager had seen Tiger for months as recently as Oct. 23 when Tiger went to Vegas.
2. Jamiee Grubbs
Age: 24
Occupation: Cocktail waitress/ reality star
Account: She's appeared on VH1's Tool Academy and claims she hooked up with Tiger at least 20 times over 31 months. She also says she has voice messages and text messages as proof.
1. Rachel Uchitel
Age: 34
Occupation: Club promoter
Account: She was the first mistress in the mix and has denied the reports, but recently was in Australia the same month as Tiger and called it a coincidence.