NEWS
Ke$ha Eyes Rihanna, Mick Jagger Collaboration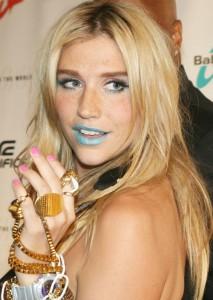 Ke$ha may be 23, but she has a major to-do list.
"Some of my favorite artists of all time are classic artists, and the list is long when it comes to dream duets," the Tik Tok singer tells me during Casio's Shock The World 2010 event. "Anywhere from a Mick Jagger to a Prince to a David Bowie. But also I'd be as honored to share a song with Rihanna as I'm honored to share her stage during our concert tour."
MORE ON:
Red Carpet Confidential
Article continues below advertisement
She continues, "We were just hanging out. She's so amazing, especially on stage. She's such a genuine person."
Hmm, is Rihanna's boyfriend Matt Kemp always around?
"I haven't seen him yet, but there's so many people on our tour, there's like hundreds of people. I haven't had the pleasure of meeting him yet."
Psst: Crazy blue lipstick! Very raspberry snowcone-like.
Most recently, Ke$ha has been inspired by her work raising $70,000 for Nashville flood victims and serving as a guest at a benefit for animals.
"I plan on doing a lot more, as much as I can, especially for animals. My record is called Animal for a reason – that's because I have a strong affinity for animals. I want to help them because they don't have a voice for themselves."
After Ke$ha slips backstage, an insider spills details of her rider for the evening.
"Ke$ha's new obsession is Agave. Also crudite and wine -- she likes red wine."
Pick up the OK! on newsstands now for more Ke$ha. The cover line is "The William and Kate Wedding Tell-All!" And, catch Ke$ha on tour with Rihanna through August 26.