NEWS
Ke$ha & Her Shark Mask Take a Bite Out of the Brits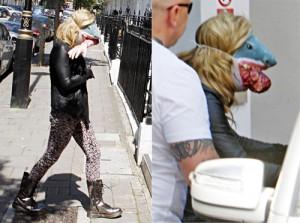 Ke$ha is that you? We could spot those leopard leggings and work boots anywhere! The pop princess disguised her face under a gruesome looking shark mask which was adorned with a bloody human arm hanging out of its mouth as she headed into a London clinic on Friday. Regardless, she is still sporting a super trendy, typical Ke$ha ensemble of animal-printed leggings, ankle boots and a leather jacket!
MORE ON:
OK Galleries & Photos
Article continues below advertisement
Hope the singer didn't hurt herself.
Wonder what the visit to the doctor's office is all about? No matter what is wrong with her, she even knows how to accessorize an injury.