NEWS
Keira Knightley on Googling Rick Santorum: "My Innocence Has Been Taken Away"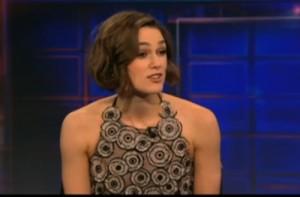 Neither Sarah Palin or Donald Trump showed up at a recent debate featuring Republican presidential hopefuls, but a group of candidates who weren't exactly household names did. Jon Stewart pointed out that the "lesser" GOP candidates might take a bit of research on Google. And his guest Keira Knightley did just that with Rick Santorum — former Senator from the Commonwealth of Pennsylvania. Unfortunately, the search engine response to "Santorum" was not what she had expected.
Article continues below advertisement
After showing a clip of the debate, Jon suggested last night on The Daily Show that "you might have to Google" to get a better grip on who the candidates are.
"Although, I guess the last guy would prefer you didn't do that," Jon added, referring to former Sen. Santorum.
Santorum came under attack when he pushed for government regulation against consensual sexual acts between homosexuals.
His anti-gay regulation led to a contest to come up with a definition for the word "santorum," that would get back at him for his homophobic legislation.
The NSFW-winning definition, has now come back to haunt him, as it is quite disturbing.
So what does it mean? Check out its definition for yourself if you dare, according to its Wikipedia page.
"I just Googled Santorum," Keira shared with Jon. "I feel like my innocence has been taken away. It was the use of the word frothy."
So will this hurt Santorum's chances at the Republican nomination.
"Maybe that's a great thing," Keira mused.
Catch the clip, via TV Squad, below!