NEWS
Keira Knightley's Royal Role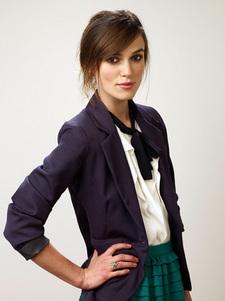 Odds are if you're seeing Keira Knightley in a movie these days, you're likely to see her in a period costume.
On Sunday, Keira, co-star Ralph Fiennes and director Saul Dibb spoke to reporters in Toronto about their new period movie, The Duchess, based on the life of 18th century aristocrat, Georgiana, Duchess of Devonshire.
So why does Keira think period pieces are still so meaningful today?
"I tend to think emotionally we haven't changed very much even though society itself is so different," Keira says of doing films set in the past. "When you watch those films, you completely understand what's going on with those characters. I think it's actually quite easy for a modern audience to understand."
Article continues below advertisement
Ralph, who plays Keira's husband the Duke of Devonshire, feels film is necessary to change our views on the world.
"For no reason I can easily define, it can get under the skin of everyone and it can affect you," he says. "I think it can change you. It can make you ask questions. It can elevate and inspire you to become something."
Director Saul Dibb sees parallels between the celebrity culture of the past and the way starsare pursued today.
"At the time, it was the flowering of the British race," he says. "I think we live under the assumption that this has "Bang!" happened now. People have always been interested in other people. The cult of personality has been around forever."
As for Keira's performance as a British royal, Saul says she did "brilliantly."
"She took a very challenging role and put a lot of passion and energy in it," he says. "It wasn't a surprise, but it's refreshing to find somebody who's so young, passionate, clever and funny. She's a force of nature."