NEWS
Keith Urban Surprises a Kid, Secret Santa Style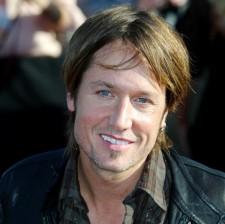 Keith Urban surprised a teenager by secretively buying him a $450 guitar pedal during a shopping trip in Brisbane. Wonder which was more exciting? The gift or finding out who bought it for you?Keith was out shopping for a new guitar on Dec. 18 after he performed at the Brisbane Entertainment Centre when he noticed a young boy playing with a guitar pedal, OK! Magazine Australia reports.
When Keith went to the register to pay for his guitar he secretly bought the kid his desired expensive piece of equipment.
Article continues below advertisement
"'I look up and there's Keith Urban and his band, which was quite a shock obviously," Tym Brennan, a shop worker, told Australia's ABC Radio. "He spent about half an hour in the shop trying out guitars, and there was a kid sitting there trying out a fuzz pedal, which is an effect you get for a guitar. Keith came back down the counter and was chatting away and had picked out a guitar he liked. He had heard the kid trying out the pedal for some time and he just leaned over and whispered, "How much is the pedal that kid's looking at?" I said, "It's $450, it's not a cheap one", and he just whispered, "Put it on my card." Obviously I was quite shocked. I said, "Do you want me to tell him?", and he said, "No, wait till I leave."'
Tym said the boy was shocked when he realized what had happened.
"'He looked at me several times blankly and sort of turned a bit white," Tym said. "After he settled down a bit he rang his dad on his mobile and said that Keith Urban had just bought him a Christmas present.'"
Bet the dad was surprised and relieved!