NEWS
Keke Palmer Talks New Film 'Joyful Noise' And Texting Nick Cannon!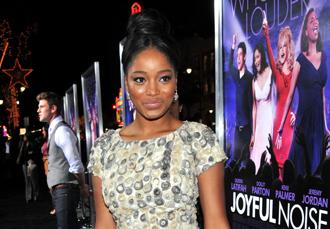 Keke Palmer is beaming and not just because of her film Joyful Noise! The actress, best known for her part on Nickelodeon's True Jackson VP, exclusively talked to OK! today about her big new movie role and her last conversation with producing pal Nick Cannon.
"It's been a lot of fun," Keke told OK! exclusively at Planet Hollywood in NYC this afternoon. "This is the first movie I get to sing in and that's really important to me. Music is definitely something I'm trying to explore, especially this year, it's definitely one of the bigger things I'm working on, trying to make it as prominent as my acting in 2012."
Article continues below advertisement
What was it like working with stars Dolly Parton and Queen Latifah? "Amazing!" Keke said. "I don't know who would work with Queen Latifah and Dolly Parton and not feel like the best person on earth. It's just something I'll always remember."
OK! GALLERY: QUEEN LATIFAH & DOLLY PARTON BRING ON THE FUN AT THE JOYFUL NOISE PREMIERE IN HOLLYWOOD
Keke is also producing a film for Nickelodeon with comedian and host Nick. "I have that coming out in the Spring. I am very excited about it, it's a movie of the week for Nickelodeon. I'm also starring in it, but I'm really just mainly the thing I was ready to do was produce. I've worked with Nickelodeon before so when I was able to produce and be a part of it on the creative end, I was really excited to be a part of it. "
OK! NEWS: NICK CANNON RELEASED FROM HOSPITAL AFTER 'MILD KIDNEY FAILURE'
Has she spoken with Nick since his recent hospital scare? "I have. I told him I hope you're doing well. I was doing so much promotion for Joyful Noise that I hadn't read or really looked at my twitter and then I kept seeing 'Nick is in the hospital.' Nick Cannon in the hospital and I'm like what?"
"Then I saw a picture of him in the hospital, it was a picture of him leaving the hospital. So I texted him and was like I hope that you're doing well. I heard you were in the hospital, I'm praying for you and I hope you're doing better. And he responded pretty quickly and he was like thank you so much."
One thing she hasn't done is seen his twins with wife Mariah Carey! "I have not seen his kids. I want to! I'm like what do these kids look like? I want to see them so bad."
Hopefully soon, Keke! Joyful Noise is in theaters starting today!