NEWS
Keke Palmer is 'True Jackson, VP'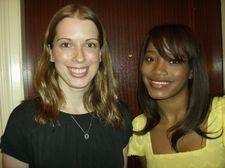 Keke Palmer plays the lead role in True Jackson, VP, which debuts tonight. Is she ready for her own fashion line?
"Man, I hope so," she says. "Keke P or something. Keke Palmer fashion line, something cool like that I love. I love fashion, I love getting dressed up, one of my favorite parts about doing any role is getting dressed, going to the wardrobe, getting my hair-and-makeup done. That's always been fun for me. I remember playing in my mom's makeup, dressing up. It's always been fun for me. Doing this show, I get to have a lot of fun clothes, talk to young girls."
Article continues below advertisement
She continues, "This is fun for me to do finally something that my peers know about. Nickelodeon is a kids' channel, and a lot of the movies are dramatic and a lot of older people see them. Kids see them, too, but a lot of old people see them, so being on a show that I can be like 'I'm on my Nickelodeon' to my own friends, that's a lot of fun."
Keke isn't confining herself to kids fare. She's set to play Roxanne Shante in Vapors.
"My mom told me about her – she was a rapper," she says. "I knew about Biz Markie and all those old guys. But to play a rapper, that would be so cool! Her story was amazing to me. After she had gotten pregnant, she couldn't rap anymore and she wasn't into music too much, she had made sure in her contract that they paid for all of her school and she made sure she got her education. I thought that was really cool because after everything happened, she was still able to get her education and she's like a professor. I thought that was really awesome."
How did the 15-year-old star get her start?
"I never knew anything about acting, or even how people got onscreen doing movies and things like that. I always knew I wanted to be an entertainer. I liked being dramatic and funny. I heard about acting when I was nine years old. My dad took me down to a casting call for The Lion King, and I just auditioned. I fell in love with the competition aspect, and just showing people what I could do and delivering was a lot of fun for me. The next thing I auditioned for was Barbershop 2, and I got it."