NEWS
Kellan Lutz Can't Stop Smiling at 'Jimmy Kimmel' Studios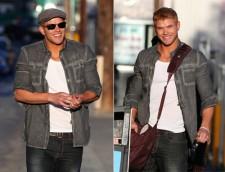 Kellan Lutz looked über hunky yesterday as he signed autographs for fans on his way into the Jimmy Kimmel Live studios. The 25-year-old Calvin Klein model and Twilight actor looked relaxed and happy ahead of his TV interview with Jimmy Kimmel. Kellan was very affectionate toward his fans snapping photos with them as he signed Twilight memorabilia.
The late night TV host asked Kellan about his Calvin Klein billboard on Sunset Avenue in L.A.
Article continues below advertisement
"How does that go over with the roommates?," Jimmy quipped.
"We don't drive down Sunset," Kellan responded laughing.
What was his family's reaction to Kellan's sexy campaign?
"Yes they are very happy, I mean I'm proud of it," he said. "But my grandparents in Iowa always ask me for Twilight head shots, but their neighbors want me in my underwear pictures, not just Calvin Klein ones, baby pictures of me in my underwear. And of course they're grandparents so sweet they give them out."
Kellan also admitted he had "no idea" when they would be shooting the fourth installment of the Twilight Saga: Breaking Dawn.
The actor was very excited to talk about his new horror movie, the remake Nightmare on Elm Street co-starring Katie Cassidy and Jackie Earle Haley, which hits theaters April 30.
Nightmare on Elm Street trailer.