NEWS
Kellan Lutz Is "Chiseled Like a Greek God" on 'Men's Fitness' Cover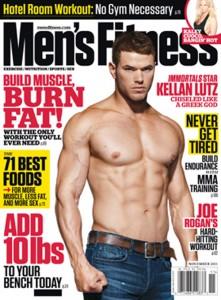 Kellan Lutz shows off his perfectly sculpted physique on the November cover of Men's Fitness. The Twilight hunk is hitting the big screen next month in two different films — Breaking Dawn: Part 1 where he will resume his role as Emmett Cullen and Immortals, playing Greek god Poseidon (hence his eight-pack and brawny biceps.) Want to buff up like Kellan? The star shares his workout secrets!
"I like to wake up with the sun around 6:30. I'll just go for a run, drop and do some push-ups, run some more, do lunges, grab the rings, and do pull-ups," Kellan tells Men's Fitness of his workout routine.
Article continues below advertisement
OK! GALLERY: KELLAN LUTZ'S ROMANTIC DATE WITH A MYSTERY GIRL
He also gushes about his role in Immortals.
"I always wanted to play a Greek god in something," Kellan reveals. "I'm an action junkie at heart. I love pushing myself to the limit. I don't really have fears as far as heights, skydiving, or bungee jumping."
What other exercise helps him keep up with his flawless physique?
"I love mixed martial arts, weapons training, guns, knives, driving fast cars, and motorcycles," he shares.
Immortals hits theaters Nov. 11.
Catch a glimpse of Kellan's "seriously hardcore" workout, via Men's Fitness, below!