NEWS
Kellan Lutz Denies Rumors He Wants To Be In 'The Hunger Games' & Admits He's Still Team 'Twilight'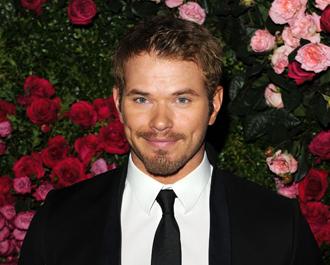 Although reports have been flying that Twilight hunk Kellan Lutz wants to be in The Hunger Games sequel, the actor himself denied the rumors exclusively to OK!, saying he likes the books and the movie, but doesn't necessarily want to be a part of the franchise!
When OK! asked Kellan if he was Team Peeta or Team Gale at the Tribeca Film Festival Artists Dinner hosted by Chanel last night in NYC, the actor looked bewildered and asked, "What's up?"
Article continues below advertisement
What Kellan is getting ready to do is reunite with his Twilight buddies and promote the final installment of the franchise, Breaking Dawn - Part 2.
"It's like the last football game you play. Your coach tells you you're going to miss it and, of course, all you want to do is get out there and knock some helmets off. So, it's been a blessing," Kellan told OK! of The Twilight Saga's final days.
"It's finally coming down to an end and it's starting to feel a little weird because it's been a huge part of my life and such a blessing that I definitely know I'm going to miss it," he added. "It's just been amazing and I look forward to doing the premieres and seeing the cast."
Article continues below advertisement
As for whether he keeps in touch with Robert Pattinson, Kristen Stewart, Taylor Lautner, Ashley Greene, Nikki Reed, Jackson Rathbone and the rest of the cast and crew, Kellan says of course, and admits they text each other all the time.
"Cell phones! It's so weird! This invention, it's amazing," Kellan joked to OK!, laughing. "And BBM when we're overseas! You need to get one."
OK! NEWS: KELLAN LUTZ IS PASSIONATE ABOUT STARTING A FAMILY "HOPEFULLY SOON"
"We shot the last movie last year for seven months," Kellan explained. "I had to work the very last day. I think I was the only actor... I just wanted to get out of there! And then you realize, I'm never going to play my character again."
"Maybe they'll do a remake and I can play Carlisle, which would be funny," Kellan said. "Ten years from now…"
Reporting by Kaitlyn Monteiro