NEWS
Kellan Lutz on Finding a Roommate on Craigslist: "I Was Looking for New Blood"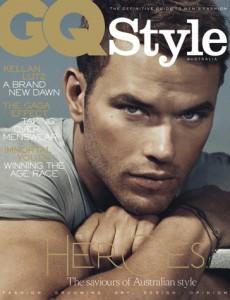 Kellan Lutz may be the smoking hot new cover star of GQ Style Australia and play a sexy vampire in Twilight, but really the actor is just like any other 26-year-old — he finds his roommates on Craigslist!
OK! NEWS: KELLAN LUTZ LAUNCHES HIS NEW LINE AT NORDSTROM IN L.A.
The currently single actor revealed in his new interview GQ Style Australia that he lives with roommates.
"That must be Dick," Kellan said walking into his house. "Dick's one of my roommates."
Article continues below advertisement
"I like being around people," he explained "so I posted an ad on Craigslist saying I was looking for new blood."
Blood.... vampire... Twilight. Get it?
"Dick came by and we liked him, so, yeah, now he's one of my boys," Kellan explained.
OK! NEWS: KELLAN LUTZ — TWILIGHT WEDDING WAS "BEAUTIFUL"
But Kellan's roommates/"boys" better be into fitness, because the actor is all about working out.
"I get bored working out inside, so the beach has been my place lately," he said. "I run, I swim, I play paddleball, basketball, do some mixed martial arts. I like mixing things up."
And it looks like it has paid off!