NEWS
Kellan Lutz: I Don't Have R-Pattz's Hair — But I Have Dimples!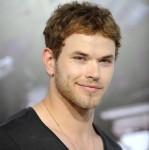 Kellan Lutz opens up to OK! about returning to work on The Twilight Saga set, how he can compete with Robert Pattinson's hair and why he sends his best wedding wishes to Hilary Duff!
OK! GALLERY: KELLAN LUTZ GOES TO THE GYM, MAKES FANS SWEAT
Kellan hosted Social Sundays at the Borgata Sunbar on Aug. 9 at the Borgata Hotel Casino & Spa in Atlantic City where he filled OK! in on what he has coming up in his life!
Article continues below advertisement
From filming Breaking Dawn, improving his action career and thinking about weddings, Kellan has a lot to look forward to and so do you!
OK! GALLERY: THE EXPENDABLES REPLACE VIOLENCE WITH LOVE AT L.A. PREMIERE
It's been a busy year for you, how are you planning on spending your time off?
Vacation. I actually just got back from doing three movies in a row, all back-to-back. It was really cool to be a part of those projects but it's nice to have down time, me time, dog time and family time. And I want to go to Turkey really bad. Istanbul, Iceland and Ireland. And somewhere to get away and get a tan before I have to be all pale for a while. But just relaxing because Breaking Dawn is going to be a big movie to shoot.
Undoubtedly you'll be doing lots of eating! How are you going to maintain your Calvin Klein physique?
I really believe that eating has helped my physique. I really believe being bigger... when I don't eat or I try to be food conscious I lose weight and I don't like losing weight. So I'm going for the steaks, I'm going for the big hearty meals, I love Indian food. Hopefully I'll be getting some good Lebanese food. Anything and everything, I just love to eat it!
Article continues below advertisement
You start filming in the fall?
Yes, I believe we might start rehearsals in September – fight training – and then I think start production in November until March. In Vancouver and Baton Rouge.
What do you like about filming in Vancouver?
Everything! I love to snowboard, so it's going to be good to be there in the winter. I'm going to be in Vancouver in the wintertime when I can actually use Whistler big time. I'm a big snowboarding junkie. The restaurants there are amazing. The seafood's great, the steaks are great. We've been shooting up there for the last two movies, so we kind of have our hole in the wall bars where we can semi-escape.
Where do you like to go?
I can't say! Then it won't be our hole in the wall where we can disappear to. But I love getting lost there. And we just have a really great group of actors who are real people who can just have fun.
Tell me what it's like on set with Robert Pattinson and Kristen Stewart.
Really fun, we have so many inside jokes now and again we don't get sick of each other because these movies are only three to four months of shooting and then we're off doing our own thing. And then we get excited to come back and it's like a great family reunion. I can't wait. I really can't wait. I don't think many actors who are part of trilogies or sagas can say that and really can't wait to get back to the cast again. Share stories and make more memories.
Article continues below advertisement
Do you keep in touch with your co-stars outside of filming?
Yes, that's the really cool thing about acting. You build these friendships and anytime you can spend time with a person for months, and hours on set, you really learn a lot about someone. And you're going to be there for a while you might as well make some best friends out of it. It's a dream to be in an industry that's very fickle and to find friendships.
Are you excited for the saga to continue or are you looking forward to new projects?
I love it. It's been a blessing to me. I haven't really had time to look at what it was. Five years from now I'll really appreciate it. But it's opened up so many doors. It's allowed me to mold my career in the action route, which I would love to do. I love doing stunts, I love doing action movies.
Article continues below advertisement
How was reuniting with Ashley Greene in Warrior?
We shot that a while ago, about a year and a half ago. It was good, it was really good. We'll see what happens. I'm not really sure what's going on or why there's a lag with that. You do independent movies and for some reason they don't want to add a little more money to make the movie better but it'd be a great time to have that release, especially with Eclipse and especially with Ashley's career going through the roof.
And you both made the covers of magazines this month for hottest bodies!
It was really cool! It was really cool to do that with a best friend and in Palm Springs and Joshua Tree it looked great, we're both really proud of it. It was fun, it was really fun.
You did some music videos with Hilary Duff back in the day.
I did, I did!
Do you keep in touch with her?
No.
She's getting married soon!
I know I know, I'm heartbroken! And what's funny is I didn't even want to go on the audition for that. I have an amazing agent and he was like, "Just go on it," and I was like "No, I'm not a good looking guy who's going to book a Hilary Duff fragrance commercial."
Article continues below advertisement
But it's one of those things where it's like, I'm not that guy, I'm not like that stud in all those music videos who has the nice Rob Pattinson hair – but I have dimples. But my agent convinced me to go and I got a call back and they ended up choosing me. And I really had a great great time doing it. Great experience.
OK! NEWS: KELLAN LUTZ GIVES K-STEW BREAKING DAWN ADVICE
Any well wishes you'd like to say to her?
You know what, she was such a sweetheart to work with. I don't know her fiancé, he's a hockey player. I'm from North Dakota, so I'm big on hockey. It's one of those things, you meet somebody who's really sweet in the industry and my sister was a huge fan of hers growing up. And I don't know, it's really cool to see it work. Marriage is very dear to my heart and I hope I get married and it lasts and all those things so by all means I wish you the best Hilary.
Do you think AnnaLynn McCord is the one for you?
Is she for you?
I definitely think you two could make marriage work!
(Smile)
Reporting by Darla Murray