NEWS
Kellan Lutz Looks Forward to the Holidays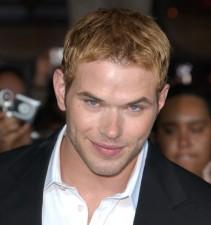 The Twilight Saga: New Moon mayhem has left vampire Kellan Lutz a little homesick. Kellan talked to Holidash about what's he's thankful for most this year and what he's looking most looking forward to come. "I enjoy all this press stuff," he explained. "But it's definitely going to be nice to go home for the holidays."
While promoting New Moon Kellan has experience his fair share of odd requests from fans giving him all the more reason to look forward to going home for Christmas.
Article continues below advertisement
"I had a mother wanting me to sign her son's forehead with a permanent marker, and I was like, that can't be good for your kid," he said. "No, I said I'll act like I'm biting his neck and you can take a picture. She's like, 'Oh, that's even better.' I'm like, 'Yeah, I think so, too.'"
At least he's nice enough to come up with another suggestion, especially when he's probably very tired of pretending to bite people!
This year alone Kellan has worked on five films including: New Moon and Eclipse, A Nightmare on Elm Street remake, an Indie film named Meskada, and a lead role in a movie called Warrior.
Once New Moon opens (this Friday!) he will be done for the year and is looking forward to spending some time at home with his mom in Arizona.
"It's definitely going to be nice," he said. "My mom's very traditional and puts up lights and cooks great meals and little cookies. It's just great to be with the family."
Article continues below advertisement
Kellan grew up in Arizona and is looking foward to being spoiled by his mom (his father lives in L.A.).
"I feel like a little kid when I go home and have a little stocking full of candy," he revealed. "It's great."
CLICK HERE FOR ALL OF OK!'S NEW MOON NEWS AND PICS!
After a little relaxation, Kellan plans to hit up Mammoth, Big Bear and maybe Aspen for some snowboarding fun with friends.
"I have a truck now and I bring my dog in my truck and throw my boards in the back," he explained. "It's a piece of crap truck, breaks down all the time. It's a Toyota pickup, pretty much. But it's my baby, I love it. Off-road all the time."
Kellan was planning on studying chemical engineering and is thankful that his acting hobby turned into his career.
"To go this route, I'm just very blessed to do it," he said. "So, with being a part of Twilight, it's definitely opened my eyes to how nuts it is to be a named actor and have paparazzi crash their cars trying to get pictures of you."
With Eclipse in post-production there is one more novel in the series that needs to be filmed, Breaking Dawn. Kellan says the cast have fallen in love with their characters, but completing the series is out of their control.
"I think it really matters to the fans, if they still come out and support New Moon like they did Twilight, and then Eclipse," Kellan said. "Because we all want to finish this baby. It's such a part of us, it just would seem empty not to finish the last chapter."