NEWS
Kellie Comes Back To Idol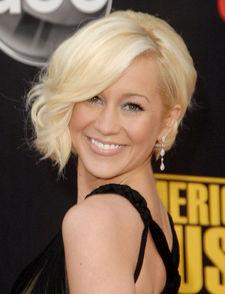 As the field narrows, the Idol finalists are really beginning to feel the pressure. But tomorrow night, they'll get a timely reminder of what they're fighting for when one of the most successful former contestants returns to the show.
A fifth place finish in season five turned Kellie Pickler from a local beauty pagaent queen into a country music star. Now she's coming back to the stage where it all began for her to perform her 2006 hit single, Red High Heels.
Article continues below advertisement
After she finished behind Taylor Hicks, Katherine McPhee, Elliot Yamin and Chris Daughtry, Kellie's Small Town Girl album became the best-selling debut by a solo country artist. It went gold in 2007 and gave her two Top 15 singles, I Wonder and Red High Heels.
She has since been nominated for awards from the Academy of Country Music and the Country Music Association and her latest single Things That Never Cross A Man's Mind is in the Top 20 right now.
Catch Kellie's performance on this week's elimination show on Wednesday, March 19 (9:00-10:00 PM ET live/PT tape-delayed) on FOX.