NEWS
Kellie Pickler Surprised By CMT Victories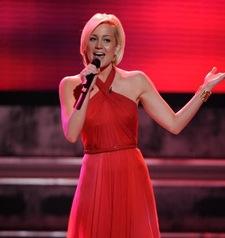 While her pal Taylor Swift may have won the top prize at Monday night's CMT Music Awards, it was actually former American Idol finalist Kellie Pickler who carried off the most trophies of the evening with wins for her song "I Wonder" in three different categories: Breakthrough Video of the Year, Tearjerker Video and Awards Performance of the Year.
"This is the first time I've ever won an award," the singer, who was unable to attend last night's ceremony in Nashville, said in a post-show conference call. "I just want to go run laps around this whole building but people would think I was crazy so I'm not going to do that... I'm definitely probably not going to be able to sleep tonight for sure."
Article continues below advertisement
Kellie also talked about the close bond between her, Taylor and their fellow country superstar Carrie Underwood. "They're like my sisters in country music," she explained. "Taylor and I toured together all year last year... She and I have probably gotten the closest to sisters. It's really, really amazing to have her present that award to me because it was a special moment for both of us. I guess you can call Taylor and Carrie and me the Three Musketeers. Us blondes, we've gotta stick together. Boom!"