NEWS
Kelly Bensimon on 'Real Housewives': "I Don't Like the Word 'Fired' "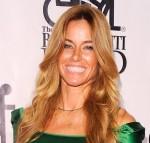 After three seasons on The Real Housewives of New York City, Kelly Bensimon was not asked to return to the Bravo show next year. The former model attended the Buoniconti Great Sports Legends Dinner on Monday where she talked to reporters about ending her run on reality TV and what's next for her. But one has to be careful with Kelly, who was very particular about certain word choices throughout the interview.
Article continues below advertisement
"I don't really like rumors. There's really no truth to rumors," Kelly told OK!. "And you know, listen. It's Housewives. You gotta watch it."
The reality star continued, "You gotta keep on watching and it's a really great show and it's hilarious. If you're not laughing with me, laugh at me."
OK! NEWS: JILL ZARIN SAYS HER FIRING FROM 'THE REAL HOUSEWIVES OF NEW YORK CITY' WAS "JOLTING"
Kelly's polite phrasing preferences continued when she was asked about her post-Housewives plans.
Article continues below advertisement
Kelly declined giving any hints as to what exactly this "big announcement" could be out of fear that it would turn into a rumor — and now we all know how Kelly feels about rumors.
"I like dispelling them, not creating them," Kelly added to OK!.
The statuesque brunette was the focus of a flurry of rumors last year when many viewers speculated she suffered a mental breakdown while on vacation with fellow castmembers for the show.
Article continues below advertisement
But even with all the drama both onscreen and offscreen, Kelly seems to take nothing but positive things away from her experience.
"I don't really think of it as moving on," Kelly corrected again. "It was a huge leap of faith and I had so much fun doing it. It was a great time of my life and that is — you know, no job lasts forever and here I am tonight supporting the Buonconti fund for paralysis. So I just feel honored that I could be on Housewives and have so much fun doing it and support charities to the extent that I can."