NEWS
Kelly Bensimon Talks about the Real EX-Wives of New York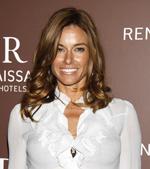 Perhaps Bravo needs to change the titles of their hit Real Housewives reality series, as it's become increasingly confusing with many of the getting divorced, being already single or just not really being "housewives" at all. OK! caught up with Real Housewives of New York's Kelly Bensimon about being single on the show and also got some scoop on the newest NYC housewife, Sonja Morgan.
The new housewife is in fact a "Morgan" — an ex-Morgan to be exact. Sonja is the ex-wife of JP Morgan's great-grandson.
Article continues below advertisement
"I know — The Real Ex-Wives of New York," Kelly acknowledged at Reebok's "Tone and Taste" Cupcake Crawl, an event to promote Reebok's new EasyTone shoes. "I guess their strategy is that it's just more evocative television to have someone who's already done something and now they're doing something new. It's good television, which is how they navigate."
Speaking of which, none of the Real Housewives casts have been known to treat newly added housewives kindly — something Kelly knows from first-hand experience.
"It was really hard, because it was women I'd never met before," she explains. "Even Jill will tell you, 'We blocked you. Bethenny said you were part of this other group that didn't want to be part of us, and we blocked you.'"
But Kelly is optimistic about getting along with the new wife. "I haven't met her yet. One of my closest friends knows her and says she's a lot of fun. So I think she's going to be fun." Kelly says, adding, "All I know about her is that she's originally from Albany, a really hard-working girl, and that she met a guy — he happened to be a Morgan or whatever — and my friend really likes her."
As for her own relationship status, Kelly, who is divorced from photographer Gilles Bensimon, also added that being on the show as a single woman is a kind of "billboard" for attracting men.
"Does it work? I don't think I'm going to meet someone from the TV show, I'm going to meet someone as the real Kelly, not the Real Housewives Kelly."
Reporting By Oliver Coleman