NEWS
Kelly Clarkson Does Not Kiss Girls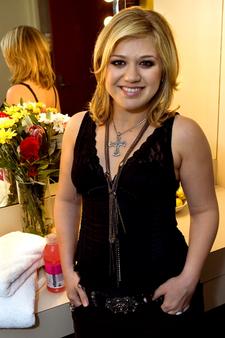 Kelly Clarkson wants to make one thing clear – just because she doesn't have a boyfriend doesn't mean she wants a girlfriend.
"No!" she tells Entertainment Tonight in an interview airing tonight when asked if she goes for girls. "I went to Europe and it was in the press everywhere and I was like, 'I don't get it, was I sleepwalking and kissed a girl and there's a picture or something?' Just because I'm single and don't date a lot, that doesn't make me a lesbian."
Article continues below advertisement
In fact, she's got quite a list when it comes to her requirements for a dateable guy: "A confident guy that has his own thing going on. Anyone that can make me laugh," she reveals. "Guys are usually so nervous, they don't talk. Every guy I've dated, I've worked with and we knew each other before."
KELLY'S STYLE EVOLUTION:
<a href="http://www.okmagazine.com/pixandvids/gallery/3501/1" target="_blank"><img src="https://d-images.okmagazine.com/img/photos/large/5971.gif" width="74" height="100"/></a> <a href="http://www.okmagazine.com/pixandvids/gallery/3501/2" target="_blank"><img src="https://d-images.okmagazine.com/img/photos/large/5970.gif" width="74" height="100"/></a> <a href="http://www.okmagazine.com/pixandvids/gallery/3501/3" target="_blank"><img src="https://d-images.okmagazine.com/img/photos/large/5969.gif" width="74" height="100"/></a> <a href="http://www.okmagazine.com/pixandvids/gallery/3501/4" target="_blank"><img src="https://d-images.okmagazine.com/img/photos/large/5968.gif" width="74" height="100"/></a> <a href="http://www.okmagazine.com/pixandvids/gallery/3501/6" target="_blank"><img src="https://d-images.okmagazine.com/img/photos/large/5965.gif" width="74" height="100"/></a>