NEWS
Kelly Clarkson Wants to Record with Carrie Underwood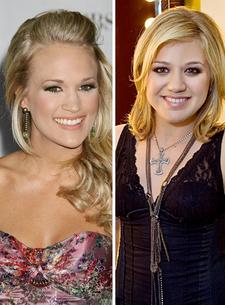 Kelly Clarkson grew up in Texas and now lives in Nashville, two places where country music reigns supreme. So will the pop princess attempt a crossover with a full country album after All I Ever Wanted hits stores in March?
"I never know what I'm gonna do in the future, but I grew up loving country music. It's one of the things that's been really close to me," Kelly says in a new interview with Popeater.com. "I did a lot of country events, so I think people were thinking I was gonna record a country album. But the thing I love about pop music is that you can kind of incorporate any style you want ...There's always gonna be those influences in my music, but I'll probably never just do one thing. I would be bored out of my mind."
Article continues below advertisement
CLICK HERE for OK!'s Kelly Clarkson weight rollercoaster gallery!
Kelly's no stranger to country collaborations – she spent most of last year on tour with Reba McEntire, her partner on "Because of You," and she says she'd go down that duet road again with fellow American Idol winner, country's reigning darling, Carrie Underwood.
"Definitely! She's got a kick-butt voice," Kelly says of singing with Carrie. She's not the only twangy songstress she'd like to work with, however, adding, "I like Miranda Lambert, too – I'm a huge fan of hers. I love Carrie, but the thing I dig about Miranda is she's just so feisty. She doesn't care. It's very admirable, and I dig her writing."