NEWS
Kelly Clarkson's Killer New Bod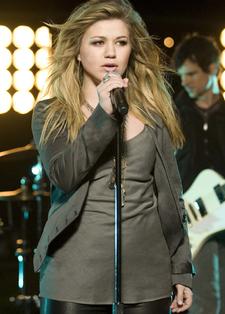 Wearing leggings that hugged her every curve, Kelly Clarkson recently flaunted a svelte new figure that mirrored her strong singing style. The American Idol alum showcased her sexy look in the video for her latest single, "My Life Would Suck Without You," which debuted during a Jan. 28 episode of the hit reality show that jump-started her career.
Now fans are buzzing about her weight loss, which some experts place at as much as 20 pounds. But Kelly has been working on her appearance from a number of angles, resulting in her trim yet sexy silhouette. "She lost 7 to 10 pounds," an insider tells OK!. "But she has great makeup and hair stylists behind her — as well as a phenomenal photographer — to tweak her to perfection."
Article continues below advertisement
CLICK HERE for OK!'s gallery of Kelly's weight rollercoaster!
The Texas native, whose new song topped the Billboard music chart last week, kicked off her weight-loss program with an increase in exercise. "She started working out a few days a week, doing basic cardio," the insider tells OK!. "She runs occasionally and does the elliptical."
The star, who admits she only hits the gym when she is in the mood, also made dramatic changes in her diet. "She cut carbohydrates, sugar and alcohol," adds the insider. "She stopped with the beer and late-night eating" — no easy task for Kelly, who was bulimic as a teen and still relies on food for comfort. "After a long day, I'm tired, and yeah, a cookie helps," she says. "It makes me feel good."
Stay tuned: Kelly expects to get even smaller after her CD is released on March 17. Says the singer, "I drop like 15 pounds when I'm on tour!"