NEWS
Kelly Clarkson's National Anthem Praised By Pink, Jason Aldean & More Stars!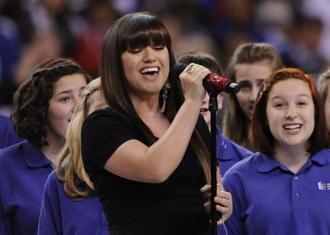 Article continues below advertisement
"Guess what ....I've never been more nervous in my life than singing the national anthem at the Super Bowl tonight ....…" Kelly Tweeted to her fans.
Kelly had nothing to fear. She didn't miss any notes or screw up any lyrics. Plus, she had a children's choir behind her to help fill out the sound and dressed simply in a black dress.
After her performance, talented singers congratulated Kelly on a job well done.
What did you think of Kelly's performance? Was it a job well done or did she play it too safe?