NEWS
Kelly & Mark Owe All Their Children to "All My Children"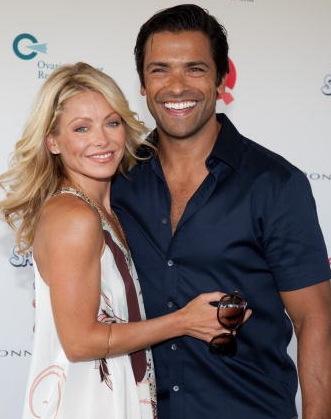 On the heels of the news that daytime soap All My Children would be packing up and leaving NYC for L.A., Kelly Ripa says she's sad to see the show go that is responsible for her life with hubby Mark Consuelos and their kids.
"I'm sad for the actors and the crew in New York, because that show has employed so many actors and camera operators, production guys and sound technicians over the years," she tells AOL Television.
Article continues below advertisement
Beyond the loss of work, Kelly is grateful to the show for bringing her husband into her life.
"I just saw AMC creator Agnes Nixon's daughter last weekend, and I was thinking about how without her and AMC, Mark and I wouldn't have met, wouldn't have gotten married, wouldn't have our three kids. We wouldn't be doing the show, or Live With Regis and Kelly, maybe none of the things that are happening with us. This interview wouldn't even be happening, and I think we can all agree that would be a very sad thing."
And while they worked together in the past, Mark isn't sure the two of them will work together soon or step into Regis Philbin's shoes when he's out. Do
"We had blast when I guest starred on Kelly's Hope & Faith... that was a lot of fun," he admits. "The schedule was insane, but it was really fun, so we're always open to looking at things like that, different stuff we can do together. As for Live, Regis isn't going anywhere. He'll be there long after we are, as Kelly says."
" When people ask me who I'd like to see replace Regis when he retires, I always tell them they should be asking him that, because I'm going to retire way before he does," Kelly adds.