NEWS
Kelly Osbourne on Dating Rumors: "I Don't Have a Boyfriend!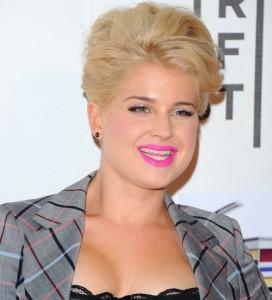 Kelly Osbourne is used to talking about her dad Ozzy, who was the center of attention at the Tribeca Film Festival premiere of God Bless Ozzy Osbourne this weekend. The documentary follows her father's career and was produced by her brother Jack, so she was riding in the backseat on this one. But when Kelly gets a chance to talk about herself, we love to listen! She spoke up about her fashion, family, haters in the media, and the truth about rumors that she's dating Rob Damiani!
Article continues below advertisement
Donning a gorgeous combination ensemble with a jacket by Vivienne Westwood, and corset by Agent Provocateur, Kelly said she could hardly breathe, "it's so tight!"
OK! GALLERY: OSBOURNES CELEBRATE OZZY AT TRIBECA FILM FESTIVAL IN NYC
When asked about her family and what keeps them all strong, she told reporters: "We love each other no matter what. And the one thing that my mother has always brought us up with – and my father – is to believe that we have a fantastic life and we are so spoiled with the things that we have but that can all go and the only thing you really have is your family. That's what we've been brought up with."
Sounds like a wise young lady! She also had fighting words for certain media outlets — we won't name names — that publish hurtful things about her and her image.
"I haven't gained weight! They just want to talk s*** about me because they love to build you up to break you down. That's just what they do. F*** them. I don't care. I know I'm a good person and I am living my life the way I should be. I don't harm anyone," Kelly said.
Article continues below advertisement
OK! GALLERY: NBC UNIVERSAL STARS SHINE WHILE PROMOTING SUMMER SHOWS
She keeps mentally and physically fit by ensuring a 30-minute workout each day: "Always, I don't feel good unless I do it."
Her biggest hair disaster?
"You know, I'm one of those people, if there's ever a hair disaster, I just make it work. When I got out of rehab two years ago I got my hair dyed blonde… I had like this much small hand gesture hair. I looked like one of those babies whose mothers made them wear barrettes to prove they were a girl," she said.
OK! NEWS: SLIM KELLY OSBOURNE CONSIDERS GASTRIC SURGERY?
She was clearly proud of her brother's work and claimed she wasn't nervous about seeing anything uncovered from her father's past: "You know in truth, it's real and it is what it is. It's the untold stories. It dispels a bunch of rumors. It's about my brother tonight. He's worked so hard on this."
Some closing thoughts about the rumors that the lingerie was for new boyfriend Rob Damiani?
"I don't have a boyfriend!"
By Maggie Doherty with reporting by Darla Murray