NEWS
Kelly Osbourne Defends "Stoner" Miley Cyrus on Twitter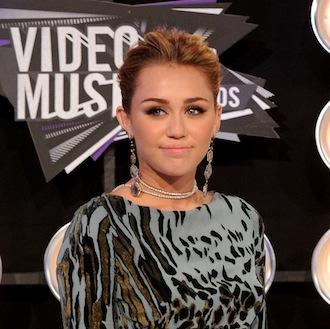 When a video surfaced today of Miley Cyrus at her birthday party last week claiming that she was a "stoner," pal Kelly Osbourne came to her defense on Twitter explaining that it was all a joke.
"You know you're a stoner when friends make you a Bob Marley cake." Miley was caught on camera by the Daily speaking to her friends at the Roosevelt Hotel in L.A. while receiving a cake for her 19th birthday.
Article continues below advertisement
Kelly claims that the whole scenario was a tease stemming from the "Party in the U.S.A" singer being photographed smoking what she said was salvia out of bong around her birthday last year.
"Let me make something very clear," Kelly wrote on her Twitter Sunday, "after @MileyCyrus salvia incident we started calling her bob miley as a JOKE! the cake was also A JOKE!"
Not only did Kelly try to defend her best bud, linked to actor Liam Hemsworth, but also made it clear that whoever leaked the video couldn't be a true friend.
"It makes me sick that @MileyCyrus so called 'friends' would sell her out and lead people 2 believe she is someone that she is not," and added, "u guys if @MileyCyrus is not recording/filming/touring she is works everyday how could she possible do all that if she was a stoner!"
"Everyone would know you cant hide being wasted!" Kelly reiterated of Miley not being a so-called "stoner."