NEWS
Kelly Osbourne Discusses Her New Engagement Ring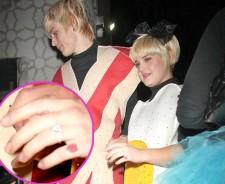 Kelly Osbourne has a new engagement ring!
The Dancing with the Stars competitor, who's been engaged to model Luke Worrall for more than a year, who sported the diamond ring in the heart-shaped setting at Saturday's Heidi Klum Halloween bash, revealed it to the viewing public when she danced on Monday night's show.
And while Kelly got great reviews from the DWTS judges this week for her salsa, the reality show cutie had even more reason to smile — because she could show off the new ring her fiancé gave her for her birthday.
Article continues below advertisement
Kelly wore the first engagement ring Luke had given her, another diamond, on the ring finger of her right hand and the new one on the ring finger of her left hand.
"Luke got me this ring when he decided he wanted to marry me," Kelly said of the first ring. "And he waited awhile and saved up and got me this," she said of the heart-shaped dazzler. "I was like aaaah! It's my real, proper, grown-up engagement ring. I love it! And he was so excited to give it to me as well that he couldn't wait until my birthday on Oct. 27. He gave it to me like a week before."
For more on Kelly and Luke's engagement, and why they haven't set a wedding date, pick up the current issue of OK! — on newsstands now!
By Carole Glines