NEWS
Kelly Osbourne on 'DWTS' Weight Loss: I Eat Pasta & Avoid Scales!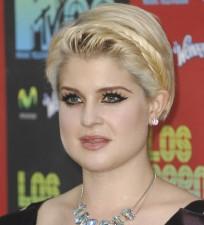 Just because Kelly Osbourne is working it out and getting fit on Dancing with the Stars, that doesn't mean she's starving herself by any means!"For the first couple of weeks, I was like, 'I need spaghetti Bolognese!' And that is what I ate every single day," Kelly tells E! News. "Now, it's chicken quesadillas. I love the carbs from the cheese. But I have to stop eating it, because it's starting to make feel sick because I'm eating it so much."
Article continues below advertisement
And even if she wasn't busy dancing the weight away, Kelly says she's avoiding the scale altogether.
"If I start weighing myself, I will start being like, 'Maybe I shouldn't eat so I could lose some more,' " she says. "I would go to that end. I would get obsessed with that fact that I was losing it and I would keep at it."
Whatever she's doing is working — and the proof is in how her costume fits!
"I'm two inches smaller than I was last week," she reveals, adding, "I suddenly have muscles in my stomach that I never had before. It's all hard and it never was like that."
But even with the pressure that comes along with learning so many dances, Kelly isn't ready to leave DWTS, saying that she and partner Louie Van Amstel have bcome close pals.
"The hardest part for me right now is knowing that this is going to be coming to an end very soon," Kelly admits."I don't like that."