NEWS
Kelly Osbourne on Recent Split: "I'm Not Over It"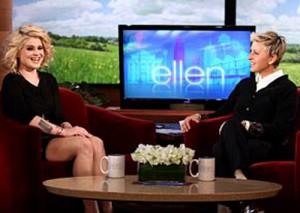 Kelly Osbourne has a bright, blooming career and most recently has been exploring the world of fashion, becoming an icon and muse to many in the industry. The 25-year-old opens to talk show host Ellen DeGeneres about her new gig on E!'s Fashion Police and her split with ex-fiancé Luke Worrall.
During the interview, which airs this afternoon, Kelly reveals the break-up has been one of the most difficult experiences she has ever had to deal with.
Article continues below advertisement
"I'm not over it. And for a while I thought, a small part of me wanted to still be with him but it's not right," she tells Ellen. "We weren't happy anymore."
Kelly and Luke separated in July after reports surfaced that he was unfaithful.
"This one sucked way more than the first time. I was going to marry him," Kelly continues of the harsh breakup. "I wanted to spend the rest of my life with him and a part of me still really does but there is a huge part of me that doesn't."
So what is Kelly looking for in a man?
"I need a man that's going to stand next to me and say, 'I don't care what anyone else says. That's my girlfriend. Shut up.' And not many people will do that."
For right now, Kelly is content with being single.
"No. I do not want to date anyone. Although, I have been rumored to been dating Chace Crawford and I don't believe I've ever met him. So that's kind of cool."