NEWS
Kelly Osbourne Slams Ex-Fiancé Luke Worrall on Twitter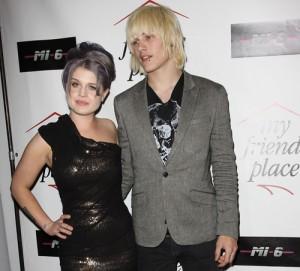 Things weren't so merry for Kelly Osbourne this holiday weekend. The E! Fashion Police correspondent spilled her heart out in a Twitter rant against ex Luke Worrall, slamming her former fiancé (with the help of many expletives) for using her and talking to women behind her back.
Kelly took to her Twitter account late Monday and early Tuesday, first being vague about the situation, but continuing to give more cryptic details about what happened between her and Luke.
Article continues below advertisement
"Just found something out that has hurt my feelings so bad :( and christmas was going so well..."the 26-year-old began. "What do you do when someone lies in the darkest way and you try to tell the person that was lied 2 but they don't believe you?"
She continued cryptically: "I think the best part of this situation is that I have been painted out 2 be the crazy 1 when all I did was tell the honest to gods truth"
Kelly reportedly spent the holidays in London with parents Sharon and Ozzy Osbourne and her siblings.
The star angrily continued on her Twitter rant with a string of expletive-ridden Tweets, suggesting that Luke may have tried to get back with her, only to let her down.
•"@Luke_worrall is the biggest piece of shit he has been trying to get back w/ me I only came home for Xmas to see him mean while he has been"
Article continues below advertisement
• "Fucking 100's of girls as we as men behind my back all he did was use me all girls beware of @Luke_worral he is a using Cunt!"
• "He used me for my money and a free ride he is lucky I am not spilling the hole truth about what he did!"
• "He is the worst thing that ever happened to me I don't give a fuck what happens to him anymore
• "Iam and always will be 2 good 4 @luke_worrall darling ur pretty face will only get you so far because u don't have the brains to back it up"
Kelly signed off on her rant and Twitter with the last Tweet, letting fans know that she needs time to grieve.
Luke's response? Seems like the British model is trying to avoid the situation, devoting one Tweet to Kelly's angry tirade: