NEWS
Kelly Osbourne Slams Kate Middleton For Wearing the Same Dress Twice!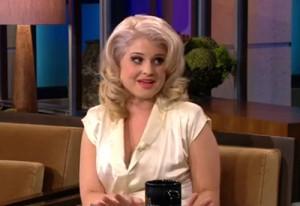 Kelly Osbourne has been speaking her mind recently. First she called Christina Aguilera a "fat b**ch" on E!'s Fashion Police, and now she is slamming royalty. Kelly talked about Kate Middleton's alleged "fashion faux pax" when she duplicated a dress!
"Well, I'm sorry, but if I had that job, I would only wear it once," Kelly told Jay Leno Wednesday night on The Tonight Show of the Duchess of Cambridge's recent decision to duplicate frocks. "If I am going to be the future bloody Queen of England, I'm going to wear that dress once, because I'm giving up the rest of my life, all of my privacy, at least I can get a new dress every day."
Article continues below advertisement
That's a bit harsh!
Jay asked E!'s Fashion Police personality if she feels people take her more seriously as a"fashion person" now that she is thinner.
"No one takes fashion advice from a fat person," Kelly revealed. "Hello, unfortunately it's the world that we live in. It isn't always nice."
She also briefly spoke about the tragic loss of her dear friend Amy Winehouse.
"I've not really left my apartment much since I've been back from her funeral in London last week ... but it's been good to leave it today, 'cause my bloody A/C is broken," Kelly said.
" 'Cause she was a great friend to you, right?" Leno asked.
"I don't really want to go into it, 'cause there will be floods of tears on the couch," Osbourne said.