NEWS
Kelly Osbourne Wears Bikini for First Time on 'Shape' Cover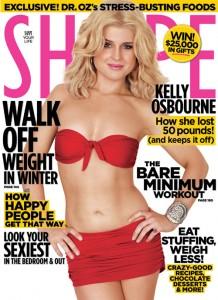 Kelly Osbourne has whipped her butt into shape and wants you to see the results! The star dons a bikini for the first time ever on the cover of Shape magazine's December issue and opens up about embracing her toned physique and workout tips!
"I've never worn a bikini in my whole life," Kelly told Shape during the shoot. "Am I really about to bare all to the entire world? I'm so nervous!"
Article continues below advertisement
Sharon and Ozzy Osbourne's daughter, recounts being bullied in the media for her weight.
"I was called fat and ugly in the press almost my entire life," Kelly, 26, shares. "I understand that being judged by others comes with the territory, but it broke my heart and ruined my self-esteem. It sets you up to hate yourself in a huge way. I was so angry about the things people said about me. I truly believe it's the main reason I turned to Vicodin and ended up in rehab three times. I just hated myself."
Kelly said she began to stop hating the way she looked.
"In the beginning, the hardest part wasn't the workout, it was seeing the reflection in the mirror," she says. "I would look at myself and think, 'Ugh!' I was miserable. To get to the gym when you already don't like yourself is really hard. So I had to make it fun. I started wearing cute outfits and putting on a little bit of makeup. And as vain as it sounds, it really helped me because eventually I stopped hating the way I looked."
Article continues below advertisement
Her intense workout regime and determination to get healthy paid off!
"I'm really glad I lost the weight the way I did," says Kelly. "I never thought in a million years I'd be that healthy girl who wakes up every morning to exercise. After being called 'cherubic and chubby,' I'm rocking a bikini! I feel silly, but I think I'm going to cry. Being on the cover of Shape is the biggest victory I could ever hope for."
Catch a behind-the-scenes video of the shoot below!