NEWS
Kelly Price Opens Up About Whitney Houston's Last Performance: "She Was So Amazing"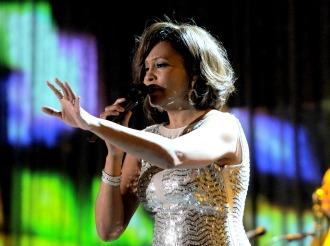 Article continues below advertisement
"We had a great time Thursday night," Kelly tells Ryan on the E! Live at the Red Carpet show.
"She came out, we hung out, we partied, we celebrated, we danced. She stood up for three hours on the side of the stage and rooted as I sang and as everybody else sang. And I wasn't expecting her to sing, I wasn't going to ask her to do that. I just simply acknowledged that she was in the building and just told everybody about our relationship, our friendship and how she encouraged me through the years as far as my career goes," Kelly adds.
"And she just walked up on the stage we embraced each other, and she said, 'Give me the mic.' So I gave her the microphone and she started to sing and I sang along with her."
And what is like, knowing now, that she was the last person Whitney would ever sing with?
"Singing with Whitney has always been, to me, just an honor," Kelly says, holding back tears. "I looked up to her prior to becoming an artist. She was so amazing."
Article continues below advertisement
OK! NEWS: WHITNEY HOUSTON DEAD AT 48
"In my heart I was praying that her death was an internet hoax," Kelly admits. "But, Whitney would want tonight to be celebratory and about the music. She loved what she did."
Truly heartbreaking for all of Whitney's family, friends and fans around the world. Let's hope tonight celebrates her life and amazing career.
Make sure to check out SiriusXM Radio to listen to the music of Whitney on Channel 48, which is devoted exclusively to the six-time Grammy Award winning artist.
Watch Whitney's final performance below.