NEWS
Kelly Ripa & Mark Consuelos Share Holiday Strategy, Chores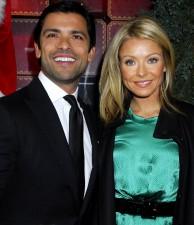 Kelly Ripa's hubby Mark Consuelos doesn't take all the credit for keeping his family's schedule running smoothly.
The actor, 39, is being honored Tuesday during My Hero Gala, the Aid for AIDS International Awards, which is held at NYC's Puck Building.
But tonight the Live! host is the hero. The 39-year-old mom of Michael, 12, Lola, 8, and Joaquin, 6, is home caring for a sick kid.
What makes him a hero under their roof?
Article continues below advertisement
"Oh my gosh," Mark tells me. "Well, it's the basic things, like taking the kids to school. I think it's a family effort. The hero becomes the family, and the family becomes the hero. I don't think I'm the hero in the family."
One area in which Mark excels is in the household. Kelly has told me about Mark's passion for keeping their home clutter-free.
"I'm very clean and very neat, but my husband thinks that I am not clean because he is so clean and so orderly and so tidy," she says. "We both have our areas of expertise. He is definitely more of the floors person. He does all of the polishing and buffing."
His skills will be in full effect this Christmas.
"I'm pretty neat, so it's a lot of garbage bags and a vacuum cleaner," he says. "By noon, all the stuff's gone, the presents are away and you have your house back."
What are the kids hoping to unwrap this year?
"Everything," he says. "One of them's afraid they're going to get coal. I'm not going to say which one, but they're convince they're going to get coal."
Article continues below advertisement
What does he want for the holidays?
He laughs, "Just peace."
His gang is traditional when it comes to holiday plans.
"We're probably going to go someplace where there's a lot of snow, and there'll be a tree, and there'll be presents when we wake up in the morning," he tells me. "It's a very simple thing."
Kelly and Lola share a holiday tradition.
"I like to take my daughter to the ballet," she says. "We go to the Nutcracker every year, but I vow every year to do it more. That's my contribution to cultural society."
Here's a pic of Kelly and I: