NEWS
Kelly Ripa on Regis Philbin: "It's Difficult to Say Goodbye"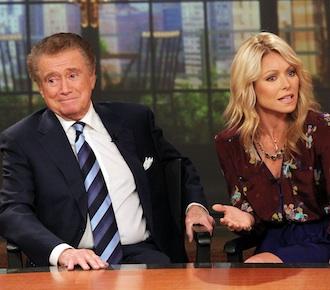 As Regis Philbin gears up this morning for his very last episode of Live!, the 80 year-old sat down for a press conference to talk about the next chapter in his life and who will replace his shoes.
According to E! News, he said, "I feel pretty good, I'm not saying I'm gonna feel as good on Monday down there in Miami, but right now...I wasn't looking forward to this moment - you never are in your life - especially when you're leaving a success that you worked your tail off to make, and it's here. And why not hang around to enjoy it? But I have and it's time really to move on." While he's not sure what exactly he's moving onto and says, "I don't know," he also sidestepped the question of who will fill his role. "Kelly is a great little storyteller in her own right. I tell ya, it' not as easy as it looks, this cohosting thing. It just wasn't for me. So, we'll see what happens, I'm interested myself to see who gets it." Cohost Kelly Ripa chimed in, "His name should be Regis, he should fit into this chair exactly right, you know it's hard to say. I think you just have to be a great storyteller and roll with the punches." She added, "And not be a pain in the butt." An emotional Kelly added, "It's difficult to say goodbye. I really have been trying to put it out of my mind..." She also pointed out, "So no matter who's here, and moving forward down the line, even when I'm not here, the people that carry on this show are carrying on his legacy. And I think that's what's important and that's what we're setting out to do. But just knowing that we'll have to do it without him sitting here is very emotional."
Article continues below advertisement