NEWS
Kelly Ripa's Birthday Plans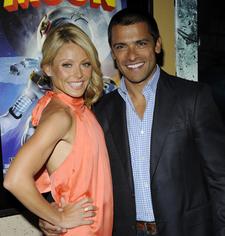 Forget a big blowout birthday bash, Kelly Ripa is going to be celebrating her 38th birthday family style, at home with husband Mark Consuelos and their three kids, Michael, Lola and Joaquin.
OK! caught up with Mark at the Grassroots United soccer match to raise awareness to end HIV/AIDS in AFrica toda in NYC and asked what the couple's birthday plans would include.
"We're probably just going to stay home, have a nice little dinner," Mark tells OK!. "We celebrate the whole week, little by little. We've been traveling a lot so we're going to stay home. That's what she wanted to do."
Article continues below advertisement
So will the handsome celebrity dad be doing the honors in the kitchen himself?
"I want her to have a good time, so no, I'm not going to cook," he jokes.
The happy family has a few birthday traditions they're going to make sure are included in the celebration as well, including red velvet cupcakes and homemade cards from the kids, and one of Kelly's presents from Mark has already been arranged – stop reading now, Kelly, we don't want to ruin the surprise!
"I was smart enough to have someone tell me what kind of shoes she wanted so we picked up some nice shoes for her," he tells OK!.
And while Mark has plenty of experience being a family man in the spotlight, he says he's got no advice for other celebrity dads.
"I'm sure they're going to figure it out on their own. I'm still figuring it out!"
By Laura Lane