NEWS
Kelly Rutherford: "I Eat 80 Percent Healthy"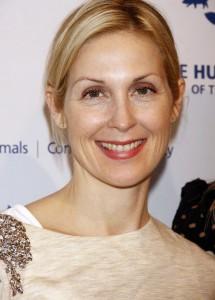 Now that Gossip Girl's Kelly Rutherford is a mom of two, she watches what she eats more carefully.
"As I've gotten older, I'm into what makes me feel good and what gives me energy," the actress, 43, tells me at the HSUS' Chefs For Seals NYC event. "I think when you're younger, you can get away with not eating right, and it's OK, but as you get older, you have kids and you work, and you need to keep your energy. For me, it's more about well-being and health than it is about dieting. It's 'what am I going to eat so I can have energy today and I can focus?' I've always eaten healthy, but I don't obsess about diets and things. It's more of a focus on health and well-being now."
Article continues below advertisement
One thing that helps her achieve her desired results is drinking coconut water – straight out of the coconut.
"I get them at Whole Foods, and then we open them," she says. "My daughter Helena, 2 drinks them in a bottle when she has a cold. We eat healthy. With myself and my kids, if we can eat 80 percent from nature and organic, then that's great."
She makes room for indulgences.
"And then we have our cupcakes or we have our M&Ms or we go out in the world to eat at restaurants, and we don't worry about it too much. But I figure at home, in order for our bodies to be able to have the sugar and be able to function, you have to have a solid base. That's how I live my life: I eat pretty much whatever I want, but I tend to eat more natural things – fruits and vegetables and all organic at home. But there are times when I say 'I want a Coca-Cola,' and I'll have one. If my tummy's bothering me, I'll have a Coca-Cola. For me, about 80 percent is pretty healthy."
Unlike most people, Kelly physically needs her sodium, and her go-to is popcorn – especially at movies.
"I'm trying to eat more salt," she explains. "I'm the opposite of most people, because I need more salt. That's a vice I'm trying to take up. I have to remember to put salt on things. My blood pressure's actually low, not high, and it's not a natural thing for me to do that."
And even though she's an actress on a hit TV show, we'll never catch her going hungry in an effort to stay slim.
MORE ON:
Red Carpet Confidential
Article continues below advertisement
"I don't skip meals," she says. "I tend to have lower blood sugar, so I need to eat throughout the day. Even if I do have three meals, I'll tend to have a juice in between, or an apple, or a piece of protein like a piece of chicken in between."
She adds, "I believe that eating protein helps my blood sugar and helps keep me in balance. Whether it's even just a turkey burger or lamb – I know, I'm talking about that when we're here to save the seals, but it's true. I eat different things."
Here's my pic with Kelly:
Pick up the OK! on newsstands now for Kelly's Diet Confessions. The cover line is "Reality TV Moms: Even More Babies!"