NEWS
Kelly Rutherford Spoils Kids, Despises Dating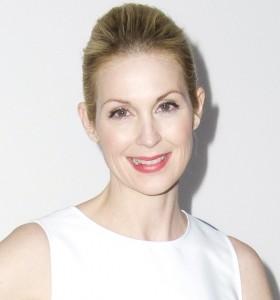 Gossip Girl mom Kelly Rutherford makes no apologies for spoiling son Hermes, 4, and daughter Helena, 21 months, to make up for the time she spends away.
"They have an awareness of the world, but they understand that Mommy goes to work," the single mom, 42, tells me at the Society of Memorial Sloan-Kettering Cancer Center's Bunny Hop. "Some days my son says 'Mommy, why do you go to work?' and I say 'because I have to be able to buy cupcakes and toys.' There's a relation to things."
Article continues below advertisement
She gives Hermes $3 or $4 each day to use in the cafeteria so that he understands the concept of cash and getting change.
"I know when to limit my children, and at the same time, I want them to be responsible and understand the way the world works," she says. "I think there's a balance you have to maintain as you go along. If there's too much spoiling, you pull back and say 'here's more responsibility.' laughs We talk about responsibility with my kids, and even a TV show, if it's advanced, I'll say 'this is a little advanced, but let's watch it, and if it feels like it's a little scary, let's not watch it.' We do that together so that they're a part of it, and they decide."
Still, Kelly's favorite way to spoil her little ones isn't with things. It's with love.
"My son still wants me to carry him, so I'll just carry him for blocks on end," she says. "Hanging out with them spoils them a lot. Giving of your time, your energy and your focus. I find that that's what he loves the most. Cooking with them and hanging out I think is the best way to spoil your kids. Being there."
Article continues below advertisement
For the tots, being able to afford everything leads to choosiness.
"We'll go to the toy store. From the time he was little, both of them, I tell them they can have whatever they want, and what happens is now he doesn't want everything. You go, 'You can have it,' but then he says 'well, I don't want that.' He's much more specific about what he likes."
Kelly also makes sure the kids give the clothes and toys they've outgrown to children in need.
"Every couple months, I'll say 'have you outgrown anything? Is there anything you don't need anymore?' He'll make a big box. He'll feel good about it, that he's giving it to some other kids, or some other parent who just had kids. It's a cycle."
Incredibly, she doesn't get pushback when she attempts to give his belongings away.
"He's very good about it," Kelly says. "He's learning with his sister, too. When she comes and tries to take one of his toys and he gets upset, I say 'well, go find something else that you think she would like and give it to her, and then you can get your toy back.' It's much easier than having a fight. And he gets it – he tells other people, 'oh no, if you give her something that she'd want, you can have your toy back.' There's a whole thing that goes on. I'm figuring it out as we go along."
Article continues below advertisement
For Kelly, motherhood provides lots of laughs.
"Just the words and concepts that they come up with are funny," she says. "My daughter now can say my son's name, and she just yells his name all the time. She gets up in the morning, and she goes up and pokes him and says his name 'Hermes, Hermes.' There are so many cute things. How they're getting along so much better now, and you see how they've bonded so beautifully. It's great."
Although many single parents feel the need to jump right back into the dating pool after divorcing, Kelly doesn't have the desire.
"It's hard to date when you have kids because I don't have the energy to date," she laughs. "Whether I want to or not, I'm like 'no, I really don't feel like going out now. I may have two days ago, but now I'm just tired.' I'm open to it, but it's about having the time to do it and actually having the time to give to someone. My life is very full, and to have another person to give to right now … it has to be a pretty amazing person."
Article continues below advertisement
She doesn't have a special someone now, and doesn't care if she marries again in the future.
"I don't care about marriage anymore." she says. "I have my kids. I was boy-crazy before I had my kids, but now I'm like 'OK, I love men, I'd love to meet someone great and have a great relationship,' but it's not a priority."
She continues, "I think it's a priority in a way when you have children because you want to have that. The kids have their father, and they love their father, and they have their mom. I don't know. I'm not opposed to it, but I don't need it to be fulfilled. If it happens, it happens."
For now, her kids definitely keep her fulfilled.
"The whole situation is so much fun. If you look at it that way, it's just probably the greatest joy in the world, ever, to be with your kids, watch them grow up, watch them go through the different phases, especially if you're lucky enough to have two children and see their differences and how they get along and their relationship develop. It's just beautiful."
Here's my pic with Kelly: