NEWS
Kelly Rutherford's Daughter Loves Dora, Jewels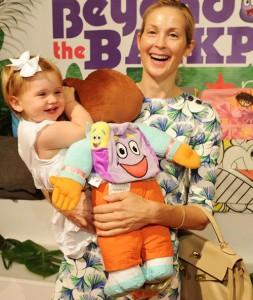 When Kelly Rutherford introduces her daughter Helena, 14 months, to the costumed Dora The Explorer during her Beyond The Backpack charity event held Tuesday at Macy's Herald Square in NYC, the little girl gets squeamish and needs to be soothed.
"She loves Dora," Kelly explains to me. "The big Dora was a bit overwhelming because she watches Dora The Mermaid almost every morning. She loves it! She's excited."
Article continues below advertisement
Whoops, little Helena, who is in Kelly's arms, makes a grab for my shirt.
"Oh, she likes your necklace … she likes jewelry," the Gossip Girl star says.
Hmm, what else does she like these days?
"She loves shiny jewelry, and she loves Dora and she loves playing," she says. "She's starting to talk. She loves anything her brother's doing. If he's climbing on something, she wants to climb. She has full conversations with our dog. She sits there and tells him what to do. She's very funny. She's very cute. She's starting to talk."
Being pals with big brother Hermés, 3, comes easily.
"They get along great. Really good. He's so lovely with her. I'm very thankful."
Kelly shares her best parenting advice.
"Listen to yourself," she says. "We all parent in different ways. We all have our different ways of doing things. A lot of it is listening to yourself and doing what feels appropriate to you as a parent and listening to your instinct about your kids. That's all we can do. You read all these books, but every child is different."
Here's my pic with Kelly when she was pregnant with Helena:
Kelly Rutherford joined Uma Thurman, Wendy Williams and Kelly Rutherford during Nickelodeon's Beyond The Backpack launch. Proceeds from the backpacks designed by LeBron James, Salma Hayek Pinault, Jessica Alba, Sheryl Crow, Heidi Klum, Eva Longoria Parker, Slash, Matthew McConaughey, Camila Alves, Shakira, Drew Brees and Faith Hill benefit Children's Defense Fund, which champions policies and programs that lift children out of poverty; protect them from abuse and neglect; and ensure their access to health care, quality education and a moral and spiritual foundation. To bid on the backpacks, click here.