NEWS
Kelsey Grammer Says He Gave Camille Grammer 'Real Housewives' Role as a "Parting Gift"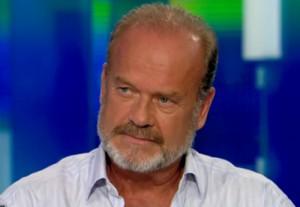 Kelsey Grammer is speaking out on his divorce from Camille Grammer — and it isn't pretty. The actor tells Piers Morgan that he and his ex-wife are far from civil and that she was only interest in him because of his Frasier status.
"The 'Real Housewives' was my parting gift to her," Grammer tells the host on his CNN talk show Piers Morgan Tonight. "It was my way of saying 'look you always wanted to be famous, here you go.'"
Article continues below advertisement
He adds: "Everyone knows reality shows aren't a great way to famous, but you still get attention and all the things that go along with the ride, which I think were things she was most interested in.
As for the beginning of his relationship with Camille, Kelsey explains he was "trying to sell" true love to himself, adding that he thought his relationship with Camille was the kind he should "try to have."
"There was this small voice in the back of my head saying 'this isn't going to work,' " Kelsey shares.
How is the status of their relationship now?
"Not good. We have no contact," Kelsey says. "There have been some very unfortunate public incidents in front of the public, in front of the children which I would like to avoid. We've had some difficult moments. The only thing that I ever really wanted was to try to work out something for the kids."
Piers asks the star if he felt Camille married him because of his status as "Kelsey Grammer, TV icon"
"I think she married me because I was Frasier," he concludes.
Catch a clip from Piers' interview with Kelsey, via CNN, below!