NEWS
Kendra & Hank Find Time for Romance!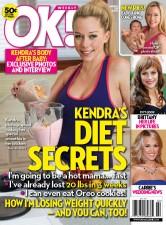 A few things have changed around the Baskett household — namely that baby Hank Baskett IV has joined his parents Kendra Wilkinson and Hank Baskett III and is keeping them busy! But even with their little bundle of joy taking up most of their time, these new parents are still finding time for romance. "We are actually planning to go to Vegas for Valentine's Day," Kendra tells OK! exclusively.
"It's important to keep the spark going," she explains. "We are going to be hosting a Valentine's Day party at Beso, and I'm really excited. Hank's mom Judy is going to watch the baby for us.
Article continues below advertisement
Besides her big plans for V-Day, Kendra has tried to get in some "me" time without her little man... without much luck!
"I had a spa day the other day. At first I was fine, but after an hour I started to miss him," she reveals. " I started to wonder what he was doing. I got into the car and listened to music like I used to when he was in my stomach. I looked down and he wasn't there and I started crying. I got home, ran into the house and almost forgot to take the keys out of the car because I was in such a rush to go see the baby!"
Hope she can make it to Vegas!