NEWS
Kendra Stresses About Finding Perfect Car Seat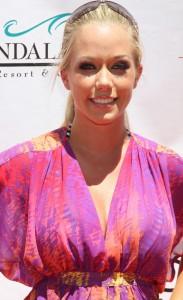 Kendra Wilkinson-Baskett has a few tasks to accomplish before making a cross-country move to Philadelphia with hubby Hank Baskett, 27, and their son Hank.
"It's very stressful because this is the first time the baby is going to fly across country," the reality star, 24, whose memoir Sliding Into Home is on shelves now, tells me. "The most stressful part is finding a perfect car seat to put him in for this flight. He's in-between right now. He's big for his age, but he's not able to fit in the straight ones, so we don't know which one to use, and we're going crazy right now. baby cries It's so weird, but that small thing is driving us nuts."
Article continues below advertisement
Just two weeks before their lease expires, the young family hasn't decided what house they will call home in Philadelphia.
"We're trying to figure out where we're going to store our stuff laughs – it's crazy," she says. "Now we're dealing with having a baby, it's not just us. We're trying to find out what's best for him, what's best for us, what's more convenient to live in. I don't know. It's so much work!"
What are they looking for in a home?
"We're thinking of a condo," she says. "We're thinking of the safety, what's more convenient to us, what's easier for us, because we have to deal with the baby, plus the dogs, and I know dogs in a condo will be a little hard. Yeah. We have so much to think about. First of all, we're thinking about the baby. He's number one. We're thinking about a kid-friendly place in a condo, or wherever we're going to go. But we're only going to be out there a couple months, so we're actually even thinking of a hotel. We don't know yet. We're thinking about a nice hotel just to stay in their penthouse or whatever. We're definitely thinking about a condo or hotel – just so we don't have to move all of our stuff again and it's still furnished though."
Here's my pic with Kendra:
Pick up the OK! on newsstands now for Kendra's new baby plans. The cover line is Bachelorette Ali/"How I Lost 10 Lbs. Fast!"