NEWS
Kendra Wilkinson-Baskett: A Baby Sister For Hank IV!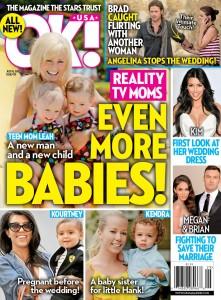 "We have so much love to give," Kendra tells OK! in this week's new issue about her plans to have her second child in the near future. "I really feel like it's a natural time for another one soon." Right now, Ab Cuts spokesperson Kendra has everything a girl could ask for: an amazing man, an adorable son and her Playboy body back. But that hasn't stopped her and husband Hank from talking about expanding the family.
Article continues below advertisement
"Kendra was the happiest girl in the world when she was pregnant," a pal of the reality star tells OK!. "She really loved it. She didn't love the weight gain and having to lose it afterward. But she did learn from the first pregnancy about moderation, and it helped her learn inner self-confidence, which was a growing experience for her."
Now, Hank and Kendra have talked at length about having another baby, say pals.
"They want a girl. Hank loves the idea of having a daughter. He jokes that he would be hard on any guys who try to take her out when she's older," says the source. "Kendra says that, knowing what kind of teenager she was, she would probably be even harder on her daughter. But they really, really want to have another baby."
Article continues below advertisement
And the timing is right, too. "Their schedules are finally freeing up to a point where they're not traveling and in different states 365 days out of the year," says the source. "They can just be a family and do things like go to the park and order pizza and watch a movie."
It's a stable home life, which is what Kendra has been craving, says an insider: "Now that things have settled and she's really doing well with her brands and projects, she is able to find that balance between work and family." And Kendra and Hank's son is already trained to be a big brother. Kendra tells OK!, "The love Hank and I share together is rubbing off on the baby. Hank IV loves to hug other kids and share."
FOR MORE ON KENDRA'S BABY PLANS PICK UP THIS WEEK'S ISSUE OF OK! ON SALE EVERYWHERE NOW!