NEWS
Kendra Wilkinson-Baskett Dishes About Baby Hank and Hef at ESPYs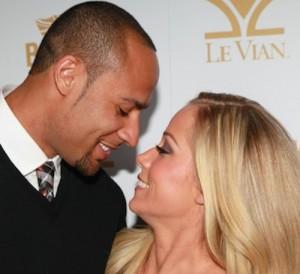 Article continues below advertisement
In fact, Kendra proclaimed they simply love the ESPYs. "It's our date night! We mark this on our calendars every year for it to be our official, dress up date night." As for whether or not they want more kids, perhaps Kendra was hinting they'll start soon, as indicated on the cover of this week's issue of OK! She told reporters, "Yeah. We just wanted one more hot photo together and me wearing a hot sexy dress and then we'll start trying."
OK! NEWS: KENDRA WILKINSON-BASKETT SAYS SHE KNEW HINES WARD WOULD WIN DWTS; SAYS "HE DESERVES IT"
Date night, of course, meant leaving baby Hank at home so Kendra mentioned two of their very good friends were watching him. She explained, "We have to sneak out though now! We bought him a new toy today just so we could give it to him and distract him and just run out the door."
When they're not running out the door for A-list events, they're spending a lot of time in the park with their tot. Family time includes "going to the park every day almost." She added "We take baby classes and we're just doing a lot of family time. Actually too much family time. When he gets picked up I'll be like 'alright, it's time.'"
Article continues below advertisement
OK! NEWS: KENDRA WILKINSON-BASKETT SHARES HER SEXTING MISHAP WITH OK!
Switching gears, Kendra told OK! she spoke with Hugh recently. "Yeah. We filmed a little show for Lifetime with him. You will see the real emotions, and Holly and I went over there and supported him and everything." As for whether or not she thinks they should reunite, that would be a negative. "I don't know, I don't know. I think they are in different stages of their lives now, so I think they're better off separate."
Reporting by Gena Oppenheim