NEWS
Kendra Wilkinson-Baskett Knew Hines Ward Would Win 'DWTS'; Says "He Deserves It"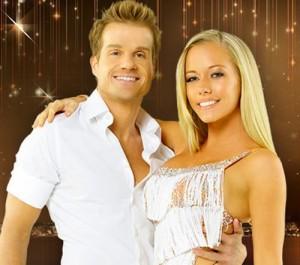 Kendra Wilksinon-Baskett danced on last night's Dancing With the Stars finale to "Livin' La Vida Loca" and grooved on the judges' table but her headache and right bloodshot eye from hitting her head didn't stop her from chatting it up after the show. The reality star dished to reporters about her thoughts on the night, staying in shape and how we probably won't be hearing a pregnancy announcement any time soon.
Article continues below advertisement
OK! EXCLUSIVE: BROOKE BURKE "ROOTED" FOR KENDRA WILKINSON ON DANCING WITH THE STARS: "SHE IS REALLY RAW & HONEST"
Kendra told OK!, "Yeah, I knew for a while that it was going to be Hines. He deserves it, he really came out and he has that charm, everyone wants to watch him, he has athletic ability, he has the mental ability, he has what it takes to win and he won." She added, "I mean, I knew from the start, having all his celebrity people come out and root for him like that. That right there was amazing."
Plus, she mentioned Hines has that extra athletic edge since his mental game is so sharp. "Dancing isn't just physical it's straight up mental, it's all in your brain."
OK! VIDEO: WATCH KENDRA WILKINSON-BASKETT'S SEVEN-WEEK JOURNEY ON DANCING WITH THE STARS
As for her own physical stamina, Kendra's been staying in shape with Ab Cuts and has added swimming and tennis to the mix. She added, "I've been swimming a lot, but lately I've been taking a break. My body deserves it. We just set up a gym." In fact, she told OK! they converted a bedroom right into a gym! "I'm like, we need to dedicate a room to a gym. We don't need another room."
Article continues below advertisement
Despite all the working out and enjoying some downtime, it sounds like Kendra won't be sharing a pregnancy announcement any time soon. The reality star told reporters, "No. I have a lot coming up, a lot of hard work."
Reporting by Amanda Champagne