NEWS
Kendra Wilkinson-Baskett Shares How She Got Her Body Back in the New Issue of OK!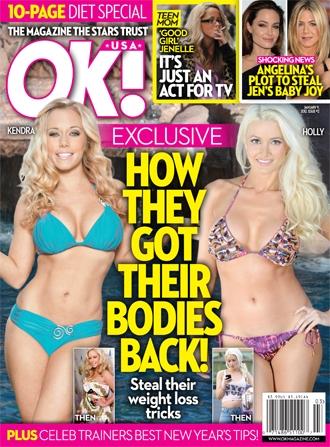 Former Playboy model Kendra Wilkinson-Baskett is revealing her weight-loss tricks in the new issue of OK! magazine. After losing weight, Kendra had trouble dropping the last 10 pounds, but in OK! magazine, she tells you how she did it!
OK! GALLERY: KENDRA WILKINSON-BASKETT & HANK BASKETT GET LOVEY-DOVEY IN HOLLYWOOD
It took more than a year and a half after giving birth to her son, Hank IV, for Kendra to start feeling really happy about the way she looked.
Article continues below advertisement
"Feeling good about yourself is key," says Kendra 26, who tells OK! that even after she dropped the first 30 pounds, she kept a favorite pair of her size 0 pre-pregnancy jeans around for inspiration. She says: "I think that having a pair of jeans handy that you want to fit into is more of a realistic goal than looking at the scale."
Last spring, to regain her figure and restore her confidence, Kendra started working out every day, consistently. She also began eating several smaller meals a day and took Ab Cuts, a diet supplement, every day. "I started on Ab Cuts for women, and it really helped speed up my metabolism," she says. "There are ingredients in the product that help block your fat from storing in your stomach."
Kendra also discovered a new favorite workout activity, one that was perfect for her energetic personality: "I love boxing," she confides.
TO FIND OUT MORE ABOUT KENDRA'S WEIGHT-LOSS SECRETS AND HOW SHE GOT HER BODY BACK, PICK UP THE NEW ISSUE OF OK! — IN STORES NOW!
FOR MORE INFORMATION ABOUT AB CUTS, VISIT THEIR OFFICIAL SITE HERE!