NEWS
Kendra Wilkinson Post Baby: "I'm Going To Get into Better Shape Than Ever!"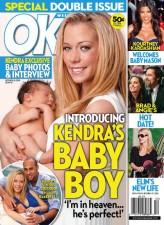 Just a mere few days after the cesarean section birth of her first son with husband Hank Baskett, Kendra Wilkinson exclusively sits down with OK! to discuss just how she plans on getting back into tip-top shape as soon as possible.
"I'm going to get into better shape than ever," Kendra vows to OK!
"It's time to get my butt back into shape," Wilkinson also admits to OK! as she incorporates a blend of martial arts, swimming and squats into her routine, That's my goal!"
Article continues below advertisement
And after gaining fifty-five pounds carrying her newborn Hank Baskett IV and requiring a C-section delivery, Kendra is fearful that her infamous stomach may be fading.
"I used to have some sexy abs, but I was like, 'There they go,' " Kendra gushed to OK!.
Fortunately for the former girlfriend to sex symbol and Playboy founder Hugh Hefner, the minor surgery shouldn't affect her game in the gym.
"But no, the doctor made a small incision and didn't even cut into the muscle," Kendra reveals to OK! regarding any interference with her new fitness routine.
Prior to having her son, the 5-foot-4 sports lover weighed in at a svelte and toned 110 pounds.
Tune in on Sunday to catch Kendra: Here Comes the Baby, a special episode on the E! Network.