NEWS
Kendra Wilkinson Reveals Hank Jr. is Bilingual & Talks About Having Another Baby!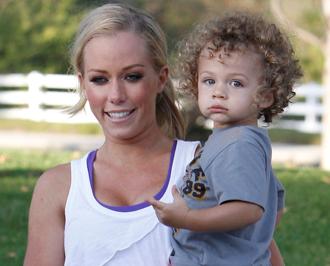 Kendra Wilkinson is loving life as a mommy, giving up her Playboy past for playground dates. And she revealed to OK! that her 2-year-old son Hank Jr., with husband Hank Baskett, is already speaking Spanish!
OK! GALLERY: KENDRA WILKINSON & HANK BASKETT BRING BABY HANK TO A SANTA MONICA BEACH
"He is the most amazing little boy I could have ever imagined," Kendra told OK! before hosting a party at The Pool After Dark in Harrah's Resort and Casino in Atlantic City, N.J. on Saturday. "Little Hank is the happiest, most confident 2-year-old I have ever known."
Article continues below advertisement
"We reassure him. We communicate with him. We believe enough is never enough," Kendra explained to OK!. "There's no such thing as too much love. There's no such thing as too much energy put toward our child. And it's showing such a positive outcome."
As for whether or not the Basketts are ready to add another baby to their family, Kendra is thinking about it. "Maybe," she said. "That's probably the most I've said in a long time. Maybe."
For more with Kendra and Hank, check out the video below from SheKnows.com: